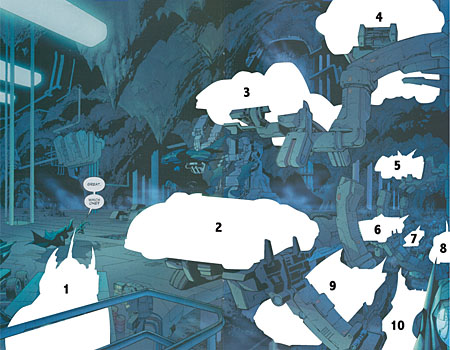 Just before we were introduced to the new Batmobile during the "Hush" storyline, Jim Lee treated fans to a two-page spread of the Bat Cave featuring several Batmobiles from Batman's history, arranged on a massive carousel stretching into the distance. Although some had been stylized more than others, they were all based on cars that had appeared at one time or another in the Dark Knight's past:
1995 Batman Forever Movie
1940 Detective Comics #37
1989 Batman Movie
1950 Detective Comics #156
1997 Batman & Robin Movie
1992 Batman: The Animated Series
1987 Batman #408
1941 Batman #5
1966 Batman TV Show
2003 Batman #609
Congratulations to Nate and Ryan, winners of the first batmobilehistory.com Batmobile giveaway! They each won a 1/18 scale Corgi Batmobile, based on the car that premiered in the same issue as the carousel. Watch for more Batmobile giveaways coming soon!