First Appearance:
Batman/Catwoman: Follow the Money
Designed/Illustrated by:
Howard Chaykin
Base Car:
Chevrolet Corvette (C6)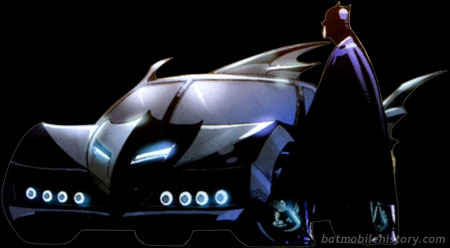 In Follow the Money, Batman and Catwoman team up after the Cavalier has framed both she and Bruce Wayne for a series of thefts (burglaries for the former, the embezzlement of the corporate pension fund for the latter). The final panels of the story have Batman offering Catwoman a ride in this Batmobile. It's design appears to be based on the then-current Corvette, with the same distinctive quad taillights and center-mounted exhaust ports. Along with the three fins and bat mask, the car features a split windshield and complex overhead console.