First Appearance:
Batman Confidential #2
Designed/Illustrated by:
Whilce Portacio (Pencils)
Richard Friend (Inks)
Base Car:
N/A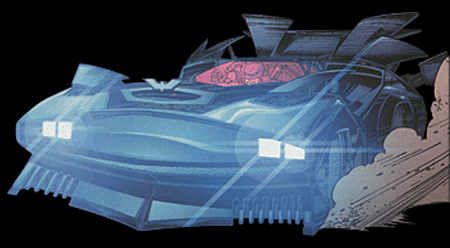 Batman: Confidential became the replacement for the then soon-to-be-retired Legends of the Dark Knight comic series. It's first story, "Rules of Engagement," dealt with Bruce Wayne's first encounter with Lex Luthor and Batman's fight with a rogue piece of Waynetech hardware. While he was investigating the death of the man responsible for the machine's actions, he came across some evidence that convinced him that Batman needs to have a meeting with Luthor as well. This Batmobile was shown in the last panel of the second issue, as Batman drove to LexCorp. A "closed" version of the car was seen later in Batman: Confidential #4.
Artist Whilce Portacio drew inspiration for the design from his youth, when American muscle cars were the "ultimate" driving machines. The strongest influence here is the Dodge Challenger, with its quad headlights flanking a rectangular grille set in a recessed panel, though it is really an amalgamation of several muscle cars from the late 1960s/early 1970s. The pop-out panels (used while the car is at speed) are also reminiscent of KITT's "Super Pursuit Mode" from the television series Knight Rider.