First Appearance:
Batman: Black & White
Designed/Illustrated by:
Jorge Zaffino
Base Car:
N/A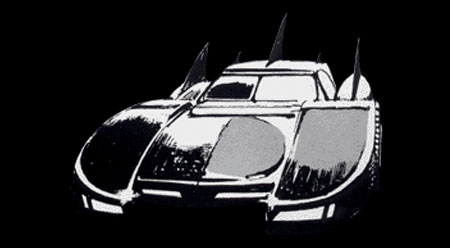 Batman: Black and White was a series of stories created in 1996. Conceptualized by DC editor Mark Chiarello, the idea was to collect the best writers and artists available to produce a collection of short stories drawn entirely in black & white. Naturally, such a product spawned more than one new Batmobile.
This is the first Batmobile to appear in the series, in the story "The Devil's Children." It only appeared in one panel as part of an overall city scene while Batman was contemplating his current case.