First Appearance:
Batman Confidential #13
Designed/Illustrated by:
Rags Morales (Pencils)
Mark Farmer (Inks)
Base Car:
N/A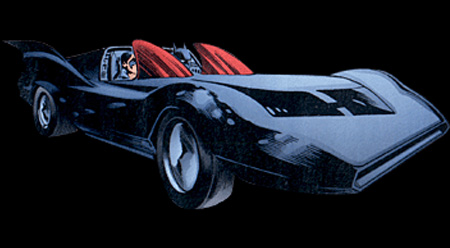 The Batman Confidential story "Wrath Child" followed the return of what was thought to be a long dead enemy. As Batman and Nightwing follow the case, this Batmobile is used more and more frequently, resulting in a final showdown between it and the heavily armed "Wrathmobile."
Although the design of this car is based on the Batmobile from the late '70s/early '80s, it has several unique design features: no rear window, a redesigned rear fascia, more elaborate front fenders, etc. Some of these design changes are functional: for example, the heavier rear panelling is used to conceal an oil dispenser and grappling hook. Other "standard features" on this Batmobile include two-way audio communications, an on-board computer with a link to the main batcomputer, bulletproof plating, a rear-view tracking system, ejection seats, and wheels that can swivel 90°, as seen on the Batmobile used in Batman Forever. Although it takes quite a beating throughout the story, a combination of good construction and skillful driving keep it intact.