Primary Appearance:
Batman Power Records
Base Car:
N/A
Color(s):
Blue exterior/Charcoal interior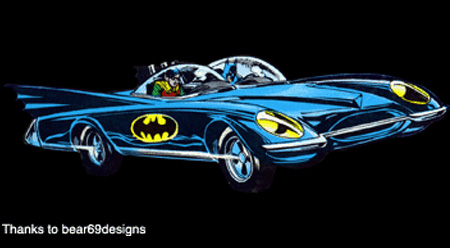 Batman was part of an unprecedented media blitz in the 1970s, and could be found just about everywhere. One of those places was as part of a series of "Power Records," which were storybook-type albums featuring superheroes and other popular characters. Batman appeared in a few Power Records, including album #8167 featuring the stories "Mystery of the Scarecrow Corpse," "Catwoman's Revenge," "Robin Meets Man-Bat," and "Gorilla City." The album art also featured a unique Batmobile.
Based on sports cars like the Ferraris or Aston Martins of the time, the car is relatively slab-sided, with rounded front fenders, squared-off rear fenders, shielded headlights, and an oval grille. Its canopy is a double-bubble design, very similar to the design found on the pre-Batmobile Futura, and the long, low fins are reminiscent of the car after its transformation.