First Appearance:
Batman/Grendel:
Devil's Bones
Designed/Illustrated by:
Matt Wagner
Base Car:
N/A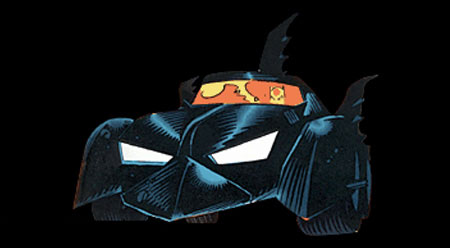 In 1996, Matt Wagner created a follow-up to his Batman/Grendel crossover set Devil's Riddle/Devil's Masque with the set Devil's Bones/Devil's Dance. The second story featured this Batmobile as Batman pursued Grendel-Prime, and allowed the car to show off its sturdiness (as it was used as a battering ram).
Though the basic shape is inspired by the Batman Forever Batmobile, this car uses a number of older styling elements such as the fin shape, windshield design, and bat-mask (with the headlights mounted as the eyes of the mask). This design was reused by Wagner in his 2003 graphic novel Batman/Superman/Wonder Woman: Trinity.