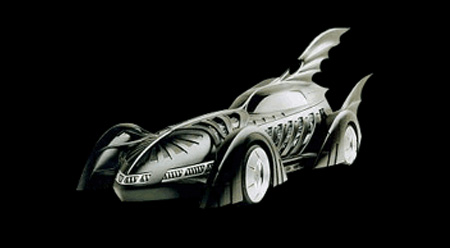 The third Warner Brothers Batman movie was released in 1995; Batman Forever. Joel Schumacher was the new director, and created a very different film from his predecessor. One of the changes was a new Batmobile, designed by Barbara Ling. Ling wanted to have a more organic aesthetic, and so designed a car that looked like it actually had ribs and wings. To accentuate the intricate lines of the car, the engine panels, wheels, and undercarriage were indirectly lit so that they appeared to glow blue. The car recalled previous Batmobiles with a split cockpit canopy, seperate fenders, and jet exhaust. The roof fin is also culled from some of the earliest Batmobiles, but it can be opened into a "V" shape for a more contemporary look. In another unique design feature, the wheels were made to keep the bat logos upright when the wheels are turning.
The two-seat cockpit featured a rear-view monitor, system diagnostics display, and custom gauge cluster. If Batman is pursued, the Batmobile had two primary avoidance features. First, it had the ability to lock all four wheels perpendicular to its centerline, to allow for quick sideways movement. Second, for more dire circumstances, the Batmobile could reroute the jet exhaust to under its front end and launch grappling cables at overhead anchors. With the nose up and the lines in place, the car could climb sheer vertical surfaces like building walls as if it were driving on flat ground.
Despite its many defenses, the life of this Batmobile was relatively short. It was destroyed partway through Batman Forever when the Riddler deposited a sack full of explosives in the cockpit.