First Appearance:
Batman: The Widening Gyre #1
Designed/Illustrated by:
Walt Flanagan (Pencils)
Art Thibert (Inks)
Base Car:
N/A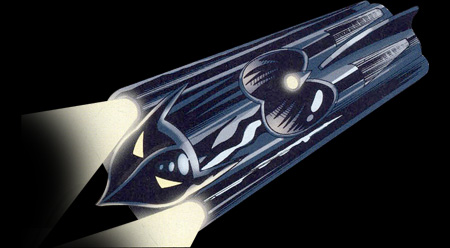 Batman: The Widening Gyre is author Kevin Smith's follow-up to Cacophony. As with that title, he is taking the opportunity to introduce a new character to the DCU.
Early in the first issue, Batman is heading towards Arkham Asylum in this Batmobile when he encounters first a swarm of insects and then a large root sprouting up from the middle of the road (Poison Ivy had claimed the Asylum and surrounding area as her own). The latter severly damages the Batmobile, puting it out of commission for the remainder of the issue. It's design is clearly based on the 1950 Batmobile, though after the rollover we learn that it is powered by an atomic engine of some sort.