First Appearance:
Superman/Batman #21
Designed/Illustrated by:
Ed McGuinness (Pencils)
Dexter Vines (Inks)
Base Car:
N/A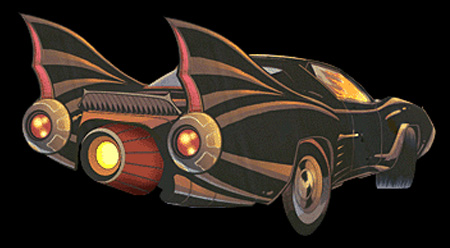 The Superman/Batman story "Vengeance" starts off literally in the heat of battle, with Batman arriving at the scene of Atomic Skull's latest crime. After intercepting Skull, the Batmobile launches a towline from the rear fender, bringing Skull's bike to a crashing stop. Despite Batman exiting the car to finish the fight hand-to-hand, this Batmobile doesn't last much longer once Superman arrives on the scene: the Skull uses the Batmobile as a piledriver, quickly ending its brief but intense career.
Stylistically, this Batmobile borrows heavily from the first "Hush" Batmobile, but with "rocket" style rear fenders flanking a large turbine exhaust and more typical fender fins.