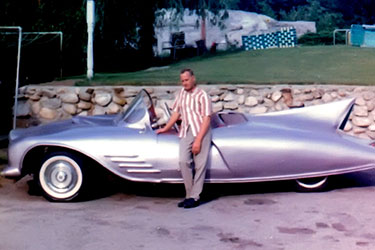 Claim: Forrest Robinson built a Batmobile in 1963, predating the Batman TV series and making it the first live action Batmobile
Status: Mixed
Origin: In the early 1960s, a young car builder named Forrest Robinson took a 1956 Oldsmobile 88 chassis with a 394 Rocket engine and created a one-of-a-kind custom. Finished in 1963, it featured hand-crafted fiberglass bodywork, sliding pocket doors, and an inverted Buick windshield. The car was put into storage shortly after its completion when Robinson was sent overseas with the Army, and would remain there until his return in 1966. At this point Batman was a smash hit and Bat-Mania was in full swing. The car was licensed as a promotional vehicle by All-Star Dairies, which had a legal agreement with National Periodic Publications (owner of D.C. Comics) and thus the car was badged with Batman-themed graphics. The car was later sold and forgotten until 2008, when it was rediscovered by Bobby Smith of Swanzey, NH. It would eventually find its way to Borbon Fabrications of Sacramento, CA, where it recieved a full frame-off restoration and custom paint job made to resemble the '66 TV car. In December 2014 it sold at Heritage Auctions for $137,000.
All of this has been confirmed by multiple sources, so there's no debate on any of this data. The debate stems from claims that it is the "First Batmobile," which basically comes down to how you wish to define the phrase.
The first car Batman ever used was a comic car in 1939; the first use of the term "Batmobile" was in 1941; and the first finned car was later that same year. So all of these firsts were quite firmly established by the 1960s. The first time a live-action Batman used a Batmobile was in the 1943 serial, so that first was also cleared well before any custom cars were built.
Of the live action custom cars, the 1966 TV series car is generally accepted as the first. The Futura base car was conceived and built in 1955, and modified into it's final form in late 1965. Robinson's Oldsmobile base car came off the assembly line in 1956, making it newer, but modifications to it were completed 2-3 years before the TV car. So in that respect, it can indeed be considered "first."
Robinson's car was never actually called a "Batmobile," though this isn't necessarily a deal-breaker as the Tumbler was never referred to in-universe as a "Batmobile." It was also never used by a DC Universe character or in a DC Comics publication in any officially licensed capacity, which is a bit more problematic. The only real claim it has to Batmobile status is its use of official DC Comics/Batman imagery, though this technically happened after the TV series debuted and amounted to little more than advertising graphics.
So, Robinson's car can be called a "first," but it requires some very specific criteria: it was a real, driveable car that carried some form of officially licensed Batman markings, and was customized into the design it used to carry those markings before any other car. Whether that is sufficient to call it the "First Live Action Batmobile" or not is up to each individual's interpretation.