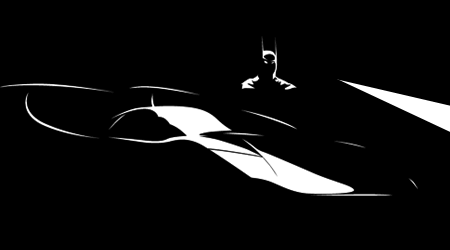 Batmobile History recommend Dark Knight costumes at PureCostumes.com
"[Batman] has two primary modes of transportation: swinging from gothic clock towers on his Batline, and cruising around Gotham in the Batmobile. Sure, he's got a Batwing and a Batjet and a Batcopter and even a Bat-Segway, but mostly Batman relies on his ride to get from point A to point B.

"Now, the Batmobile is a seriously tricked-out car, and you can't blame the guy for wanting to drive it, but it must be a serious pain in the ass dealing with the Batmobile every night.

"As anyone who lives in or near a big North American city knows, urban driving can be a maddening experience. Heavy traffic, one-way streets, swerving buses, crazy-ass taxi drivers, potholes, inadequate signage, kamikaze bike messengers, oblivious pedestrians — don't even get me going about parking...Now just imagine trying to navigate Gotham City's rat nest of streets and alleys in an extra-wide custom hot rod with a wonky torque converter and limited visibility.

"Okay, the actual driving itself would probably not be an issue, as Batman probably has advanced defensive driving skills and an intimate knowledge of the street layout of Gotham. Plus, people would get the hell out of the Batmobile's way. If Batman wants to change lanes, you will let him into your lane.

"But what about parking? Can that thing even fit into a standard parking spot? Have you ever tried to parallel park a car that has huge scalloped bat wings on the back while wearing a rubber cowl that prevents you from moving your neck more than five degrees in any direction? I want to see a director's cut of Tim Burton's Batman where Michael Keaton tries to slide that beast into a parking spot without scraping the curb or bumping into another car."
Batman first appeared in May of 1939 in Detective Comics #27, and although the first true Batmobile did not appear for another two years, it has become one of the Dark Knight's best known weapons.
The Batmobile made its career debut in Batman #5, then appeared on a comic cover for the first time for Batman #20. Because of different artists' interpretations of what the car should be, it changed size, shape, and features frequently. Later, as the car was marketed beyond the comics, more forms appeared based on practical or aesthetic considerations. In the 1960s, the first full size, fully operational Batmobile was built for the TV show Batman, and had to face financial and functional questions. A few years later the design of this car would be modified for use in the Superfriends cartoon series, with the unique considerations of making a car that could be easily drawn repeatedly for animation. Then, nearly three decades after the TV series, Batman returned to live action with Warner Brothers Batman movies. At about the same time, Batman: The Animated series came out, with a whole new take on the design of Batman and his universe. All of this was on top of the natural evolution of the car over 60+ years, taking into account new technological features like the jet engine and the computer.
I started collecting data on the Batmobiles a few years ago while trying to research a model project I was working on (you can visit my scale model site here). I discovered that there were very few reference guides to the Batmobile, and none of them covered the complete history of the car. Many focused only on a single generation (such as the Futura Batmobile), or they covered a particular genre (TV, cartoons, movies, etc.). As I collected information from all of these sources, I decided to put together my own history of the Batmobile.
Before I started this project, I had no idea how convoluted the history of the Batmobile could be. Over the last decade I have learned more about the car, the creators behind it, and Batman in general than I ever expected. Still, there's a lot that I haven't learned yet. If you know of anything that belongs here, or if you have any information on an existing entry, send me an e-mail at batmobilehistory@gmail.com.
BATMOBILEHISTORY.COM IN THE NEWS

JUNE 24, 2005