Tuesday, October 14. 2014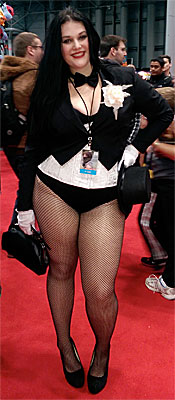 It's official:
151,000 tickets were sold for NYCC 2014
, surpassing SDCC as the largest pop culture convention in North America!
Last year
, I noted how there had been several changes to the way NYCC was handling crowd control, and that it seemed like an improvement on previous years. They did indeed keep the "tap in, tap out" feature, and did indeed clean up the few rough spots from last year. The only hiccup we encountered was queuing on the first day, and the organizers of the convention trying to sync with organizers of specific events such as the DC/USPS Batman 75
th
Anniversary Postage Stamps unveiling.
This event was a great way to kick off the convention. The stamps feature Batman from the golden, silver, bronze, and modern ages on four separate stamps, and another four stamps for the bat signals from each of these eras. Remarks were made from USPS representatives Jim Cochrane and Greg Breeding, and DC representatives Jim Lee and Dan DiDio. While most of these were standard marketing, DiDio included an interesting twist by asking the question, "Is Batman a philatelist?" His answer was yes, based on the idea that, given the popularity of the hobby and the era in which Batman was first published, it was likely that Thomas Wayne collected stamps and shared the hobby with his 10-year-old son Bruce. DiDio reasoned that Bruce continues the tradition as another way to remain connected to his parents (a concept that has been explored numerous times over the years). It felt much more "fan theory" than "corporate edict," and so was a very cool idea.

L-R: Greg Breeding, Art Director of USPS, Jim Cochrane, Chief Information Officer and Executive Vice President of USPS, Batman, Jim Lee, Co-Publisher of DC Entertainment, & Dan DiDio, Co-Publisher of DC Entertainment
In addition to the stamps, Adam West was there to promote the release of Batman on Blu-ray and DVD. Scheduled for release November 11, the box set will have all 120 original broadcast episodes (fully remastered and complete with all of the cameos, songs, and bumpers that were originally used), over 3 hours of extras, the Adam West Scrapbook, 44 trading cards, and an exclusive Hot Wheels Batmobile. We got to see some footage from the series, including a side-by-side comparison between the original and the remastered footage, and it looks incredible. It may have taken far too long to have been released, but it looks like it will have been worth the wait. West was teh perfect spokesperson for the release, too - he has a great sense of humor, and just enough "Mayor Adam West" to keep things interesting.
As usual, there was a lot going on besides Batman. Marvel and AMC had their usual large showings, and DC/Warner Bros provided previews for two of their new shows: The Flash starring Grant Gustin as Barry Allen, and Constantine starring Matt Ryan as John Constantine. Constantine in particular looked fantastic, and if they retain the mood set in the premiere then we have a lot to look forward to. There were also the usual variety of panels with topics ranging from improving your art skills to coping with discrimination to bringing comics to new audiences.

There was one major difference in the way some of the panels were treated this year, though. In every previous year, they allowed people to remain in the main theater for the entire day. This led to camping: people who were only interested in a popular panel at the end of the day arriving early and remaining through panels they didn't care about to ensure they had a seat. This year, ReedPOP went with a wristband system, where con-goers got color-coded bands for the panels they wanted and only queued right before their panel started. The wristbands were given away at the beginning of each day, and people could get as many wristbands as they wanted (i.e., if you were really interested in every panel that day, you weren't limited to getting only one or two wristbands). Personally, I liked this change. Some people (myself included) were not able to get into panels that they wanted to see, but that's no different from getting in a line and having the cutoff happen several people ahead of you (that happened to me last year). This way, however, you're encouraged to spend more time walking around the con, and if you do get cut off you haven't wasted your whole day sitting on a cement floor.
And as usual, I was able to speak to a couple of the artists behind Batman and get more fodder for the site. My thanks to everyone who worked to make this year a success, we'll see you all again in 2015!