Tuesday, October 15. 2013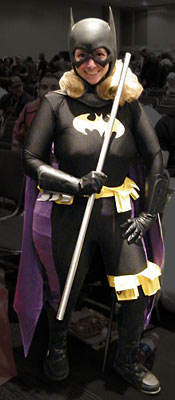 Another New York Comic Con has come and gone, and once again BatmobileHistory.com was there! The convention continues to grow and improve every year, and this one was no exception.
As with last year, the overall organization was very good. Improvements were made to both the press entrance and the press area in general, and for that I extend my appreciation to the organizers. The general entrances, with the new "tap in, tap out" feature and multiple bag checks, worked smoothly and the inevitable bottlenecking was much improved over previous years.
The only real issue that I encountered was a "no man's land" inside the fence in front of the Javits Center. It was an open area with no indication that it was off limits to con goers, but apparently no one was allowed to go within 30 feet of the fence. One security guard was particularly aggressive about defending this area, which confused and irritated several people (by comparison, Marvel's security team for the Agents of S.H.I.E.L.D. set strict parameters up front, and remained professional and courteous even when people misunderstood the limits of their rules). If a similar set up is used next year, the organizers should mark this area more clearly to reduce confusion and avoid confrontations.
Aside from that one hiccup, most everything went smoothly. There were an especially high number of great panels this year, ranging in topics from women in comics to toy designing to writing and drawing workshops (along with the usual entertainment-themed panels such as The Walking Dead, The X Files, and Robotech).

2013 is Superman's 75
th
anniversary, so DC had several events to promote the milestone. The biggest was a preview of some of the features that will be included with the Man of Steel DVD/Blu-ray to be released mid-November, presented in a panel featuring some of DC/Warner's big guns like Dan DiDio and Bruce Timm. Odds are we'll see a similar celebration next year for Batman.
Of personal interest, there were quite a few cars on display at NYCC this year. Photos were available with fan-built replicas of the Ghostbusters 2 Ectomobile, Back to the Future DeLorean, and Batman Forever Batmobile downstairs in the autographing area. On the main floor, Marvel brought along Lola (Agent Phil Colson's flight-capable 1962 Corvette), Ken Lashley had the Silver Spectrum custom '40 Ford hero car, and Chevrolet had several cars on display including the Hot Wheels edition Camaro and a 2014 Corvette. Finally, an art car was being created from a Camaro in Artists' Alley (blank flat white on Thursday, but almost entirely covered in drawings by Sunday).

I was also able to talk with several artists this year, including Tony Daniel, David Finch, and Sean Murphy. Watch for updates to their respective Batmobiles over the next few days. My thanks to them and all who worked to make this year a success. Looking forward to 2014!