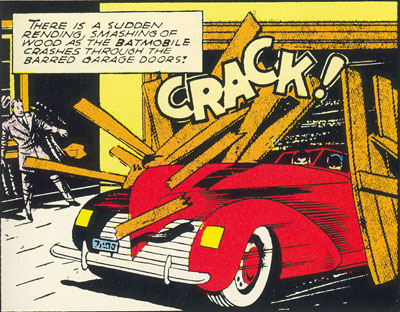 Claim: "It's hard to imagine that the most famous vehicle ever to appear on either the big or small screen came about from an apparent weakness of the superhero star, but incredibly, the Batmobile owes it's existence to just such a scenario. In the DC comics of the 1950's Batman suffers a broken leg, and to enable him protect the good people of Gotham City, The 'Batmobile' is devised. Robin, his trusty side kick is shown building the car whilst the superhero recuperates- A boy-wonder indeed!"
Status: False
Origin: The above-quoted story was featured as part of a Batmobile auction in early 2007. It appears to be based on the feature story in Detective Comics #156, "The Batmobile of 1950." Unfortunately, it seems that the author of the press release just skimmed the issue, as most of the details are incorrect.
First, the Batmobile wasn't a new invention for this issue: it had already been around for nearly ten years by that point, and Robin even makes a reference to the car's age early in the story. While pursuing a gang of thieves, Batman is first shot and then trapped inside the car when the gang detonates a bridge with the Batmobile on it. Batman escapes with just a broken leg, but the car was completely destroyed. He tells Robin not to worry, though, as he already has plans for the next generation Batmobile. The two of them work together to build the Batmobile despite Batman's injury, and Batman actually finishes the car by himself while Robin was out one day. Once the car is complete, the duo track down the gang from the beginning of the story and put the new Batmobile through its paces, showing off all the new gadgets along the way.