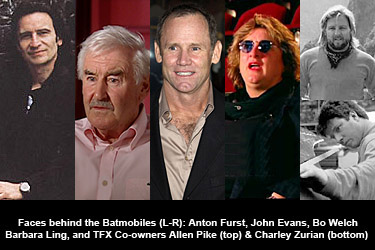 Claim: George Barris/Barris Kustoms created the Batmobile(s) for Batman/Batman Returns, Batman Forever, and/or Batman & Robin
Status: False
Origin: Barris is the man responsible for arguably the most famous Batmobile ever, but some fans have expanded his resumé to include the Batmobiles from the 1989 - 1997 movie series. That is not the case, however: the design used in Batman was designed by Production Designer Anton Furst and built by an effects crew under the watch of Special Effects Supervisor John Evans, then updated in 1992 by Batman Returns Production Designer Bo Welch. Barbara Ling took over as Production Designer for Batman Forever and Batman & Robin, and physical construction was handled by Trans FX Inc. (often referred to simply as "TFX") of Moorpark, California.
Furst was specifically called in as designer by Tim Burton (Burton had wanted him to work on Beetlejuice as well, but he was already committed to working on Full Metal Jacket at the time), who wanted to create a timeless yet recognizable "hell on earth" scenario. Inspiration was culled from myriad sources, including classical and contemporary architecture, Russian constructivist design, and ziggurat consrtuction, and more specifically the works of architects Louis Sullivan, Shin Takamatsu, Anton Gaudi, and Otto Wagner (among others). The Batmobile had to fit in with this atmosphere. As Furst explains it:
"We've never really observed the comic...we've wanted to have a totally fresh approach; to get the feel that we've liked most from the original DC comics and then just not look at the details. There were certain images that immediately just banged out that we knew we wanted to get into it, and then it didn't go any further. For the Batmobile, the Batwing, and all that, we knew we had to come up with something else that people hadn't seen, but within character, just maintain the character, that's all. It's much better just to free your mind. It's a different medium, and it has to do different things. In fact, the story requires certain things that aren't in any comics. With the car, we came up with just a brute force machine that didn't actually subscribe to any time period. What we did not want to do - because we knew that the Batmobile was something that people want to see and they don't want to see a bad one - was a concept car like you see at a motor show or something like that. We wanted it to become some extraordinary machine that you had never seen before."1
He wanted the car to look menacing, like a combination of a stealth aircraft and a medieval knight in armor. He also looked back to early automotive design, and incorporated design cues from anything from land speed record cars to modern sports cars. The end result is a car that Furst referred to as, "something that has brute force and forbidding power coupled with form, shape and sculpture. Something that is, frankly, quite rude." John Evans led his team of 12 technicians to create two fully-functional prototype cars from this design in eight weeks. The cars were constructed as fiberglass bodies mounted on modified GM chassis. The new Batmobile was an instant hit with everyone. Even fans of the 1966 Batmobile quickly fell for it, many of them adopting it as the definitive Batmobile design of all time. Batman creator Bob Kane was also impressed with it, saying, "Fantastic! I really love what's going on. It looks great." Sadly, Furst would be unable to continue his work after Batman: contractual obligations prevented him from signing on to Batman Returns, and in November 1991 he committed suicide after a series of hardships including the seperation from his wife Penny and a substance abuse problem.
The duty of Production Designer for Batman Returns went to Bo Welch, who had worked with Burton previously on Beetlejuice and Edward Scissorhands. Returns was a reimagining of sorts for Burton: thanks to the sucess of the first movie, he was able to talk Warner Brothers into allowing him to have more creative control. This is the concept that Welch followed as well, saying:
"For me as a designer, there is no marriage to the first and second Batman except for the character himself. The sequel has merely given us the license to explode all of the ideas from the first film and take them further and stronger and harder."2
Still, the Batmobile's design remained essentially unchanged between movies. Most of the updates to the car were relatively minor aesthetic changes, with the exception of the new "Batmissile" mode introduced late in Returns. Welch's new designs are more clearly seen in the updated architecture, gadgets, and the all-new "Batski" and "Duckmobile" vehicles.
When Batman Returns was released, it met with mixed reviews. Several people complained that the movie was too dark and violent, and between Warner Brothers' desire for a marketable movie and Burton's readiness to move on, Joel Schumacher stepped in as the new director. Along with Schumacher was another new Production Designer, Barbara Ling (who had previously worked with him in the movie Falling Down). The overall concept of Batman Forever was that it was to be a "living comic book," and Schumacher was anxious to put his spin on the character. In his words:
"I wasn't asked to do a sequel, I was asked to do my version of it. There are so many Batman comics now; there's Batman in the future, there's Batman vampires, there's Batman whose back has been broken by The Thing. There's even a blond Frenchman who is now Batman. It seemed to me that we could make another edition of the Batman comic...I did all this research...It was great because I was on aeroplanes and in doctors' offices reading comic books. Everybody was wondering what this old hippy was reading comic books for, but I was doing my homework. The great thing that all the artists have done with Batman over the years is colour. They have this licence to make this guy purple and his hair blue, and you just accept it in a comic book. We tried in our own way to make a living comic. I thought that was the way to go with it."3
Ling took the idea of a "living comic" and worked with Art Department Illustrator (and vehicle design expert) Tim Flattery and Special Effects Supervisor Tommy Fisher to develop the finished design for the Batmobile. According to Ling, "The bat is an amazing animal...the structure of its wings, its veins and ribs is remarkable. We went for a stylized, automotive version of a bat. I wanted the Batmobile to look like a living, breathing thing." The design also has certain elements taken from the earliest Batmobiles, most notably the large, vertical roof fin and split windshield. Some fans have also noted its similatity to a dragon's head, with a rounded snout and large crest. The design was made a reality by the crew at TFX, who eschewed the traditional fiberglass body construction in favor of carbon fiber. This car marked the "beginning of the end" for many fans, however, who were irritated at the glowing panels and gimmicky features.
Mixed reviews aside, Batman Forever was a commercial success (taking in $335,000,000 at the box office, up from Returns' $282,800,000) and a sequel was started almost immediately. Because there was no lag between films, all of the principals were able to return - including Schumacher and Ling. Both were ready to expand on what they had done in Forever, with Ling stating:
"I was particularly glad to have one more crack at the Batmobile...I think it should always feel like half a block is coming at you when you see it approach, and the size of the vehicle has to take on unnatural proportions for that to happen...I also wanted the Batmobile this time to be a convertible, which had always excited me about the early comic book Batmobile...The central idea in my mind was for the Batmobile's shape to reflect the Bat Cape, and to utilize a tremendous amount of light from within."4
Conceptual drawings were handled by Harald Belker this time around, with a design was at least partially inspired by the Jaguar D types and the Delahaye 165 with their long hoods and sweeping fenders. TFX returned, building the all-new car from the ground up. The team used special racing equipment and a Chevrolet small block that was capable of moving the car up to 140mph, but little of the car's performance was shown in on-screen. The bat-logo tires, illuminated hubcaps, pulsating side LEDs, and special turbine intake (which featured a light projector that was specially synchronized to camera) recieved far more attention. Indicative of the movie overall, the style far outshone any substance, and was a death knell for the franchise overall. Batman & Robin marked the end of the series, until it was started anew with the 2005 Christopher Nolan movie Batman Begins
1.
The Creator of Gotham's Urban Blight, by Adam Pirani
2.
Cinefantastique (August 1992) by Taylor L. White
3.
Empire #74 (August 1995) by Ian Nathan
4.
The Batmobile: A Hollywood History by Scott Huver